Six Instagrammable Cafes in New York
Grab a bite, get some work done or catch up with friends in these photo-worthy eateries.
New York's restaurant scene has some of the most photogenic cafes in the world. And since it's notoriously known as the city that never sleeps, it's no wonder that NYC revolves around eateries specializing in caffeinated drinks and scrumptious pastries. You can dine in a posh setting, like that of La Mercerie or grab a cup of coffee on the go at a more low-key joint, such as Stumptown Coffee Roasters. Whatever's on your agenda, our guide to six Instagrammable cafes in New York will lead you to nearby locations that'll take your photos (and coffee orders) to the next level.
After browsing our list, make sure to download the Explorest app to get access to expert tips that'll enhance your photography skills, helping you to get the best photos for your feed.
Cafe Collette
Influenced by different countries around the world, Cafe Collette is an eclectic, yet comfortable, cafe in the popular Brooklyn neighborhood of Williamsburg. Sit in the greenhouse garden to capture a beautiful photograph of the hanging plants, exposed brick, textured wooden panels and floors and weathered marble tabletops. If you're there at night, make sure to try their creative cocktails. The drinks they serve have a modern twist on the classics, with catchy names, like the whiskey-based Rye or Die cocktail.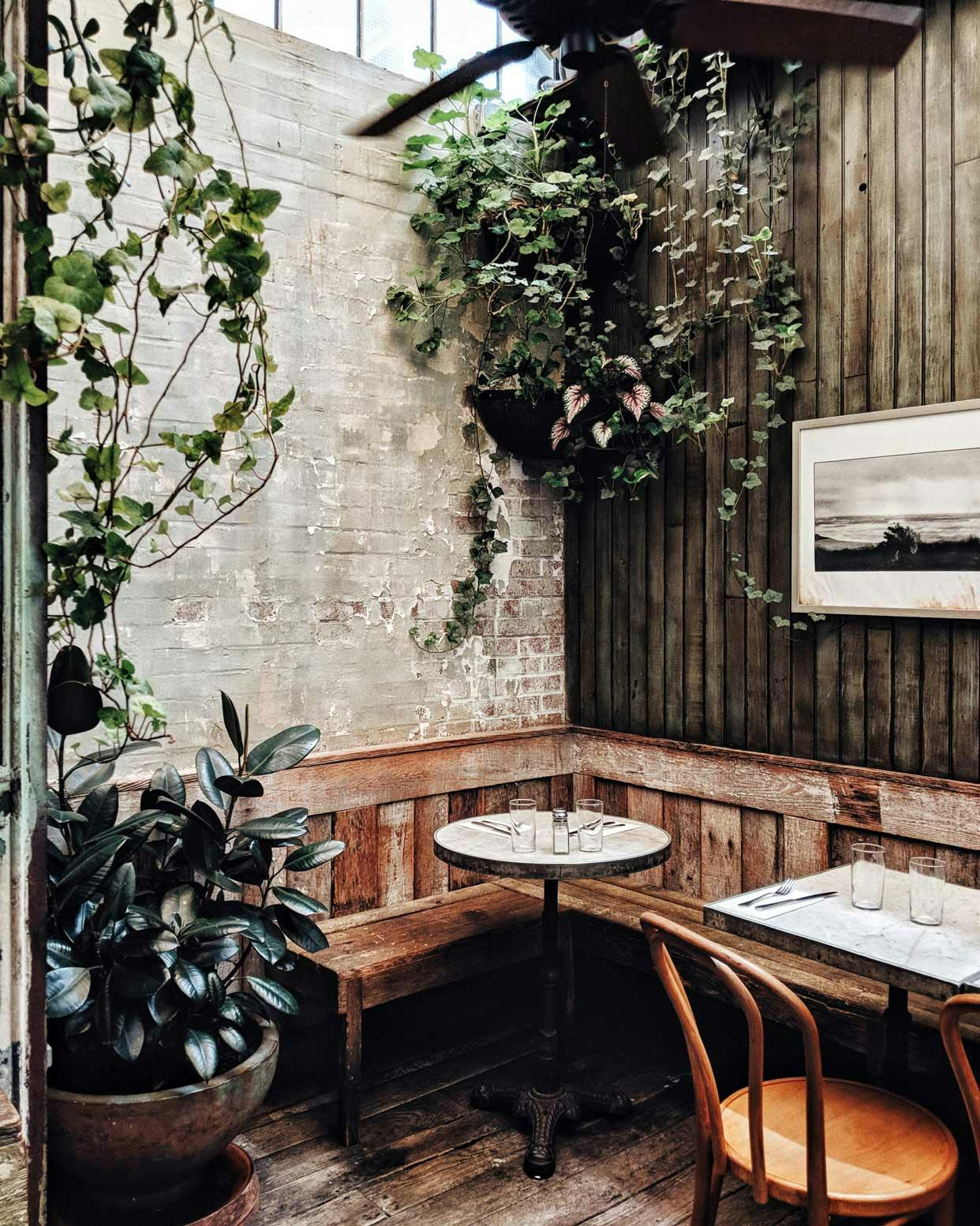 credit: @heydavina — discover Corner Booth at Cafe Collette on the Explorest app
Stumptown Coffee Roasters
Try a brew-by-the-cup coffee in the Greenwich Village location of Stumptown Coffee Roasters. Not only does the coffered ceiling, walnut bar and ambient lighting make for a great photo op, the coffee shop also has an interesting back story. It was originally the Eighth Street Bookshop where famous writers, such as Jack Kerouac and Allen Ginsberg, were among some of the shop's regulars. Their literary presence has lived on, giving the present-day cafe a reputation for being a place of inspiration and conversation in an elegant space.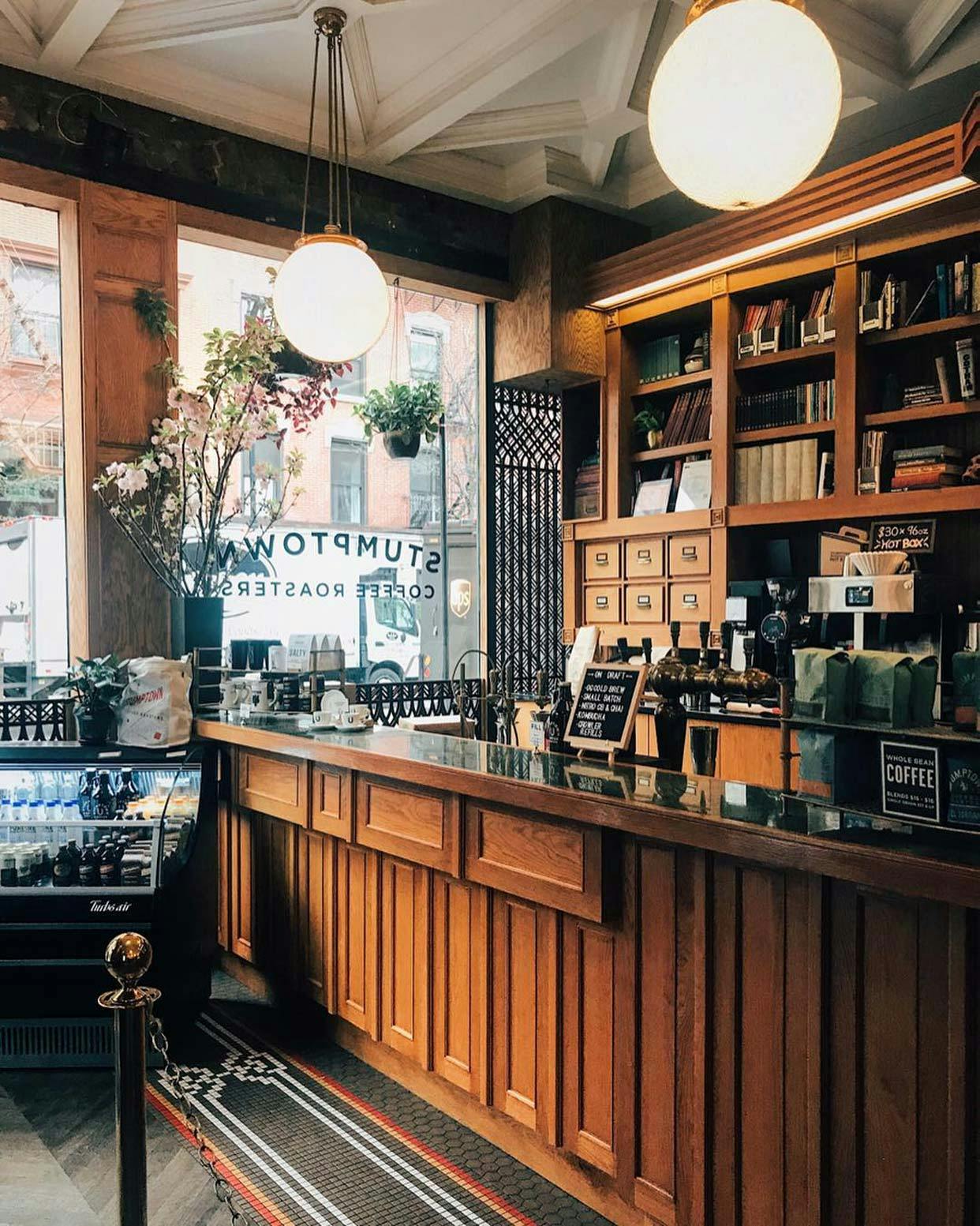 credit: @joethommas — discover Stumptown Coffee Roasters on the Explorest app
Birch Coffee HQ
With locations all over the city, Birch Coffee is a favorite among New Yorkers. And if you're not in Manhattan, you can visit Birch Coffee HQ in Long Island City (as seen in the photo below). The industrial-chic cafe has the perfect blend of cozy and refined interior designs. It's an ideal place to practice lifestyle photography—just make sure to get there early enough to have the cafe to yourself!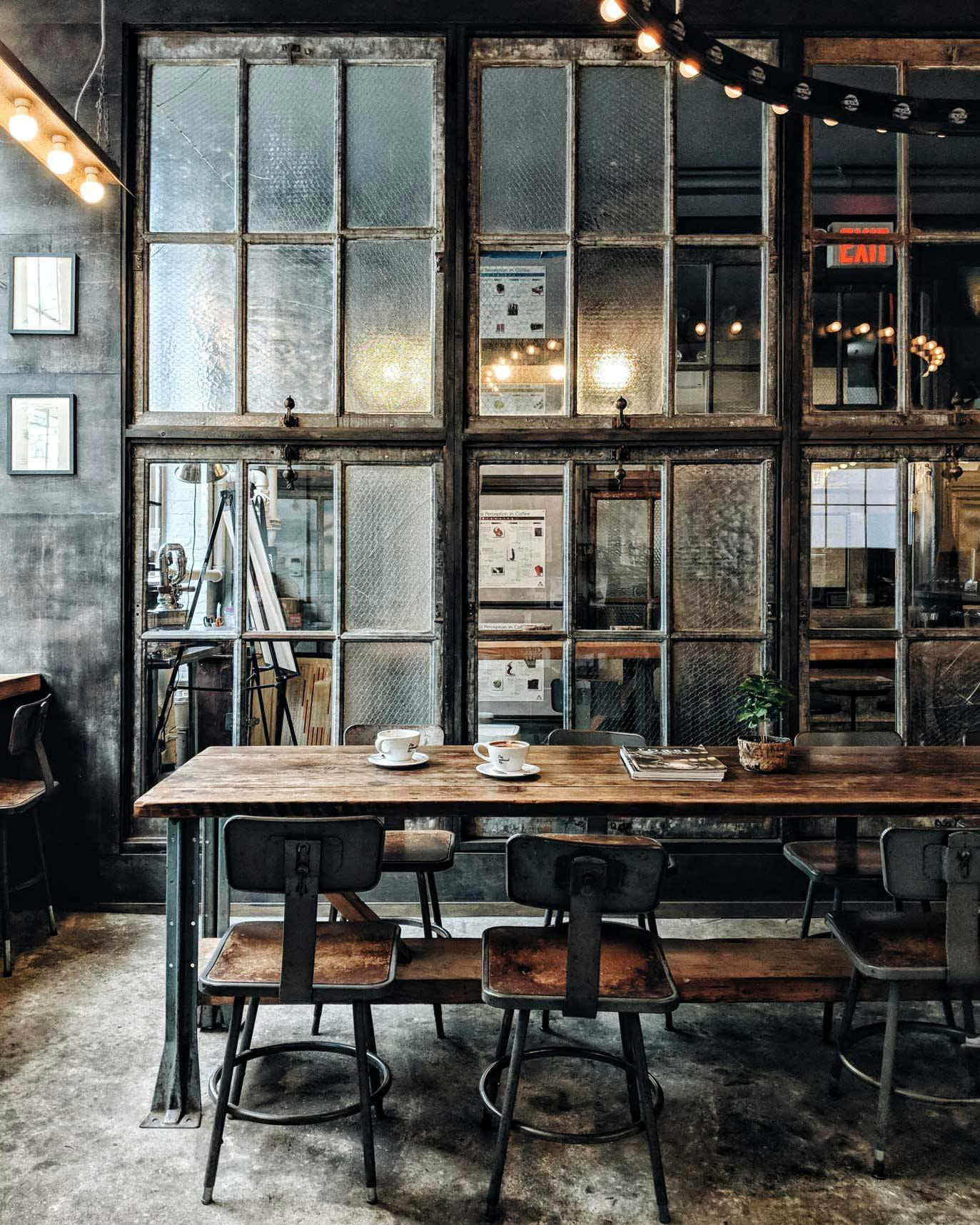 credit: @heydavina — discover Birch Coffee HQ Interior Table on the Explorest app
Maman
Another staple in New York, Maman has multiple cafes in the city. Regardless of which Maman location you visit, you'll be able to snap an Insta-worthy image, but our personal favorite is Maman on Hudson Street. This spot has a photogenic blue door, framed by books and trinkets, that stands out among the rest. To top it off, Maman serves up some of the most delicious coffee and pastries in NYC, so it's a win-win for taking photos and getting a morning pick me up.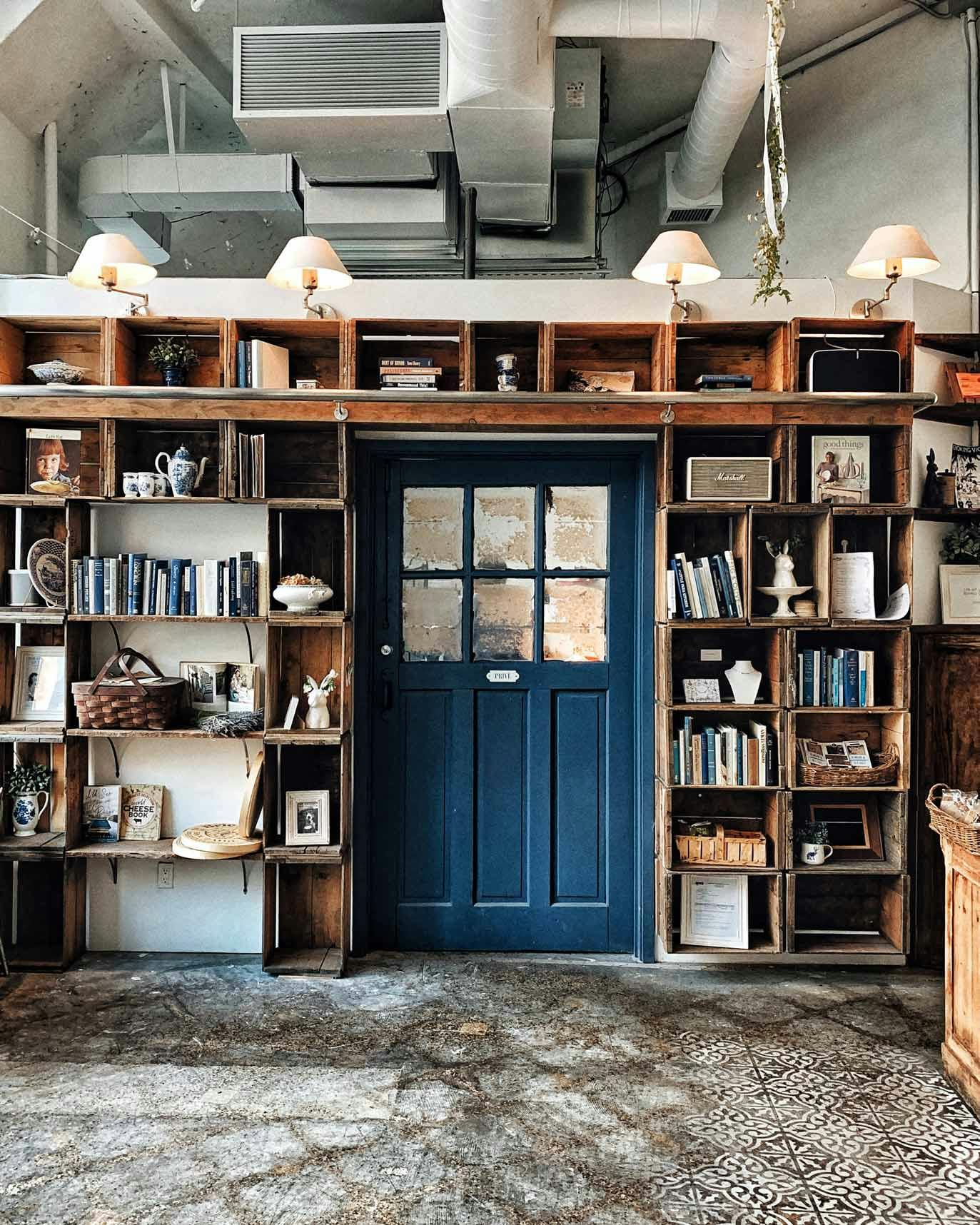 credit: @heydavina — discover Maman interior view of Bookshelf & Door on the Explorest app
La Mercerie
For those looking for the crème-de-la-crème of cafes, look no further than La Mercerie. The sun-drenched windows, velvet booths and seasonal floral arrangements make this eatery one of New York's chicest. The cafe is situated inside the design haven, Roman and Williams Guild, and as you're surrounded by an expertly crafted ambience, you'll feel your inner interior designer come alive!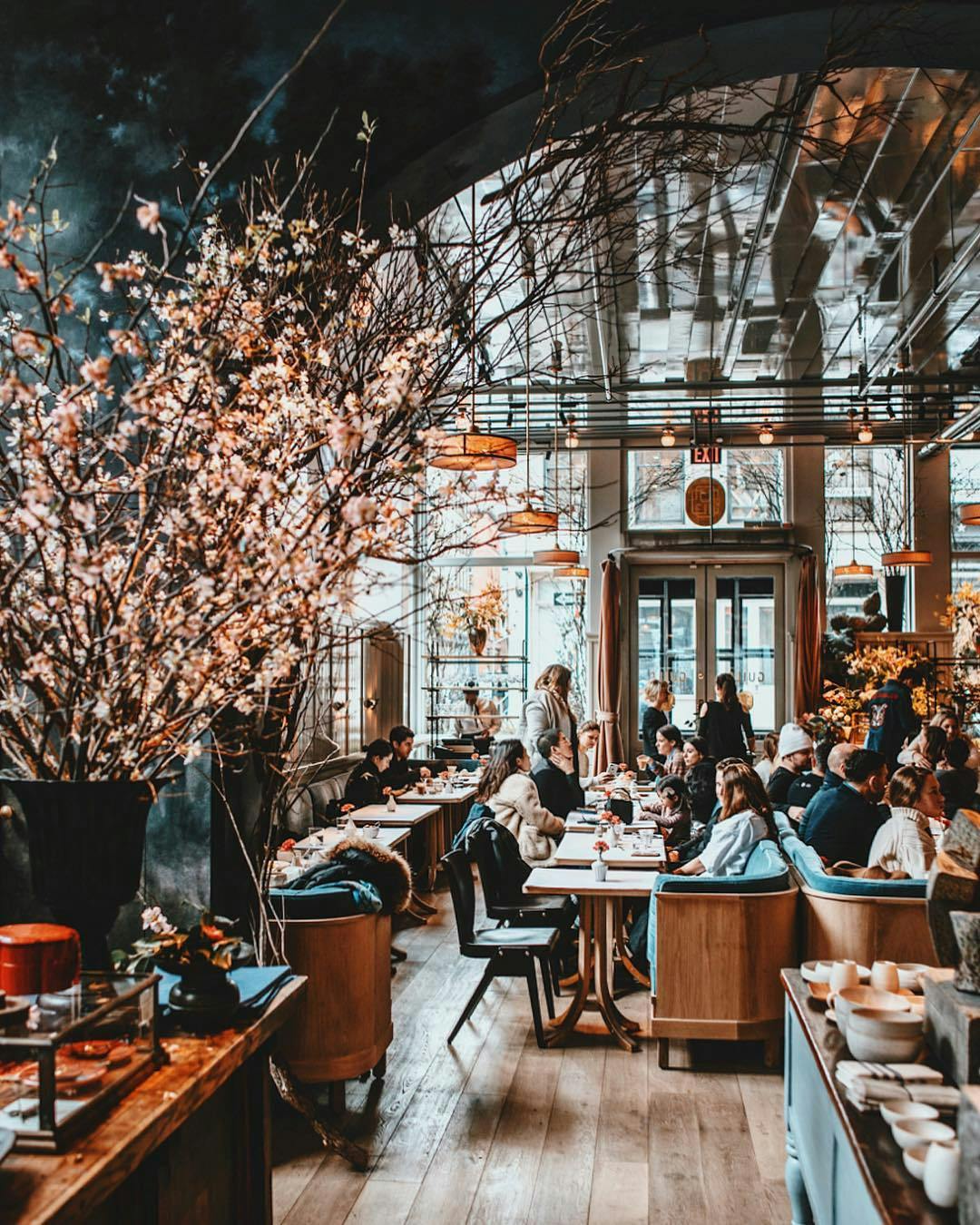 credit: @joethommas — discover La Mercerie Cafe Interior on the Explorest app
Boucherie
The West Village Boucherie cafe will transport you to an old-school French bistro in the middle of Manhattan. It's spacious and classy, and the french music playing in the background always adds a lovely touch to the overall atmosphere. Snap a pic, grab a bite to eat and sip on one of the many absinthe-centric drinks—c'est la vie at Boucherie!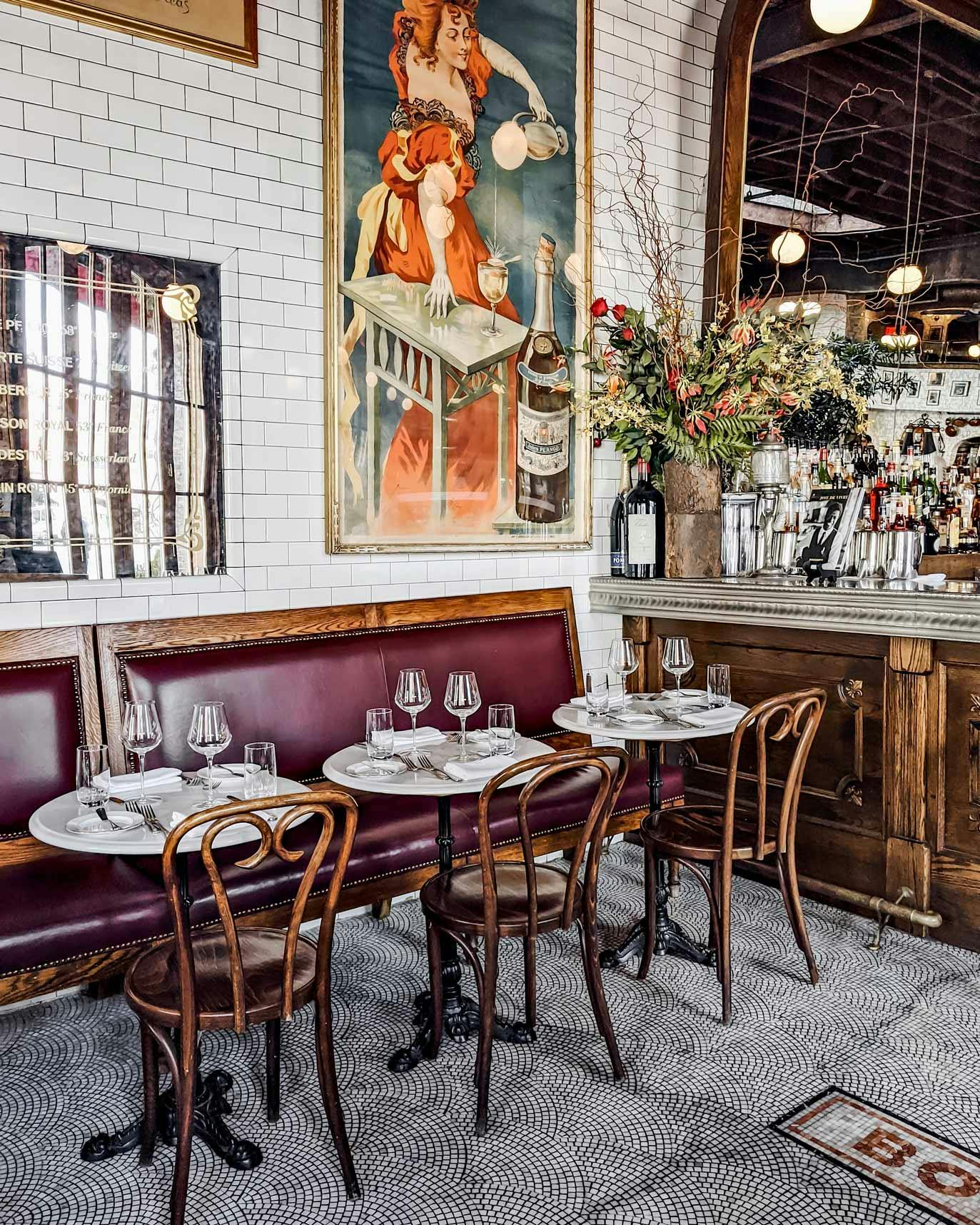 credit: @sdamiani — discover Boucherie West Village Restaurant on the Explorest app