Beautiful Places Near Me: Using Explorest to Find the Best Photo Locations
Four easy steps to explore what's around you, no matter where you are in the world.
Since its inception, Explorest has curated and published signature "Location Insights" to take users on a virtual and real-life tour across the world. The greatest part about the app, in addition to how jaw-dropping the imagery is, is its multi-functional use. Are you a local explorer looking to uncover new and exciting places in the cities and regions you call home? A traveler ready to book a flight or road trip to a new country or city? A Content Creator looking to improve your photography skills? Whatever the reason may be, our iOS and Android app can serve as your personal guide to finding beautiful places and photogenic travel spots nearby and around the world.
The first step to track down these coveted gems is knowing how to navigate the app—and don't worry, it's so easy that even the most tech-adverse can use it. Scroll through the photos and you'll see that when you click on an image, a "Location Insight" opens. Each insight includes the exact GPS coordinates of where the Creator stood to take the photo, how to get there (including parking and/or public transportation routes), best time of the year to visit, field tips to take the perfect photo and more. In the palm of your hand, you have instant access to reliable information about the world's greatest places! Did we also mention that the world-renowned Creatives we work with are local to the area, or have spent a significant amount of time visiting there? Meaning, you're guaranteed to get premium content you wouldn't otherwise be able to find on crowdsourced sites.
There's really no wrong way to use the app, but as a beginner's guide, we wanted to provide our best tips on how to find the best photo spots near you and beyond. So, what are you waiting for?! Get to scrolling and start planning your next photoshoot with these four simple hacks.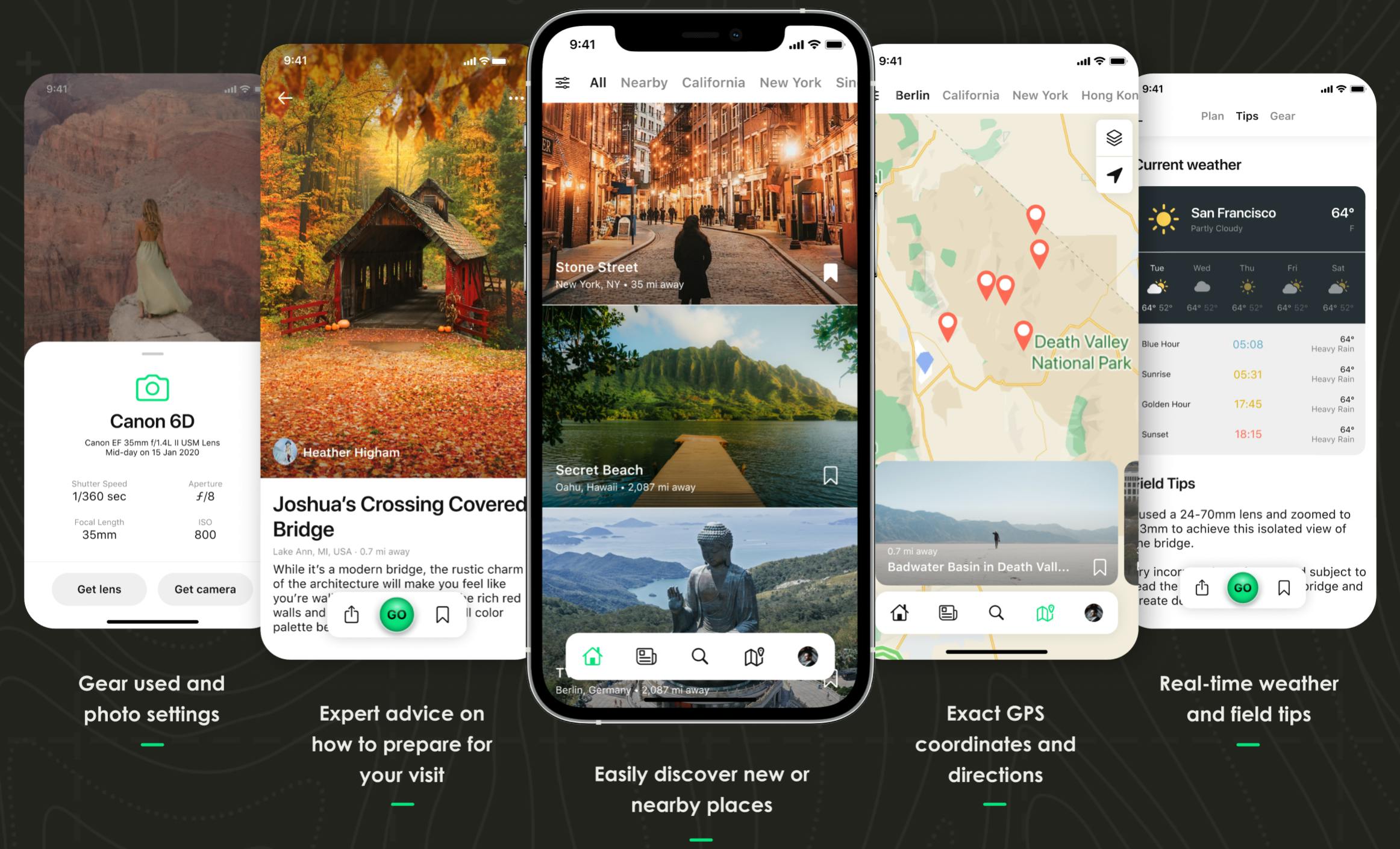 1) The Nearby Tab
If you don't have a trip planned in the near future and want to stay within walking or driving distance of where you currently are, utilize the app's "Nearby" tab. We feature thousands of places across four continents, so use the "Nearby" tab to unlock undiscovered treasures that hidden right under your nose! Even those that are born and raised in a particular city will be surprised to discover the countless photo spots that are hidden nearby. With so many beautiful places in the world, you never know what could be close to you. The "Nearby" tab is a must for those looking to get all the adventure without the hassle of traveling—a win, win for any explorer.
2) Bookmarking
Post scroll to see places near you and destinations you'd like to visit in the future, our next tip is to bookmark the locations you want to explore. Whether you're on the home feed of the app or have a "Location Insight" opened, you'll see a favicon that allows you to save the photo spot. Bookmark the locations you'd like to save, then click on your profile icon (bottom right of the navigation bar) to view all of your saved locations. The bookmarking feature is helpful no matter what stage of travel you're in, but it's especially useful when you're planning for a future trip. It'll serve as an easy reference guide and when you're in an unfamiliar area, you can pull up the saved feed and quickly access the "Location Insight" that you want to stop by and snap.
3) How to Get There
As a society that's conditioned to rely on technology for just about everything, most of us use a map app on our mobile device to get us from point "A" to point "B". And while having a worldwide guide anywhere you go is useful, more often than not, the map apps don't provide miscellaneous information about parking costs, hiking directions, insider navigational tips, etc. That's why one of Explorest's most popular sections for guiding users to locations near them is the detailed "How to Get There" section. As part of each "Location Insight", we provide the GPS coordinates of where the Creator stood to take the photo, as well as helpful hints that you wouldn't be able to find on the web. Some of our best-kept secrets are in the "How to Get There" portion of the app, so make sure you're not skipping over it when you're on the hunt for nearby photo spots.
4) Photography Tips
Regardless of your camera and photo taking skills, it's always beneficial to learn new tips and tricks from other Content Creators—especially if they're experts, like all of our contributors are. The "Field Tips" section of a "Location Insight" gives our creatives the ability to express their prime photo-taking skills on the app. They share everything from the photography equipment they used to composition tips that will help you line up the perfect shot when you're visiting a new place. It's also common for this section to feature secret details about nearby photo spots, so once you get to the location, you'll be armed with exclusive knowledge that can't be found anywhere else on the web. As soon as you start to focus on the "Field Tips", we can guarantee that your images will receive more love in the form of likes, comments and engagement. Your photo mastery will skyrocket to a whole new level and you'll go from amateur to professional in no time!
Now, Go Explore and Unleash Your Creative Potential
Explorest transports you to a world of inspiration, and with these four tips, we hope that your travels—near and far—are made easier by the Explorest app. With just a few taps, we're helping our global community find beautiful photo spots near them every single day. We're constantly introducing new functionality and featuring trending travel destinations, so definitely rely on us to amp up your explorations. Now, it's time to embark on your next adventure!